Online Club Induction for Staff and Contractors
Smooth IT understands that hospitality venues need industry support and software to assist them with their staff and contractor induction, training and compliance. We work directly with the club industry to provide a custom Club Online Induction portal to automate their on-boarding and workplace compliance requirements.
The affordable Club PowerHouse software delivers to all connected device formats (PC, Mac, Tablet, Smartphone) and is customised with your logo, style-guides and media (images, videos, audio files), courses, news streams and policies. The Victoria Point Sharks Club Login Portal is displayed below.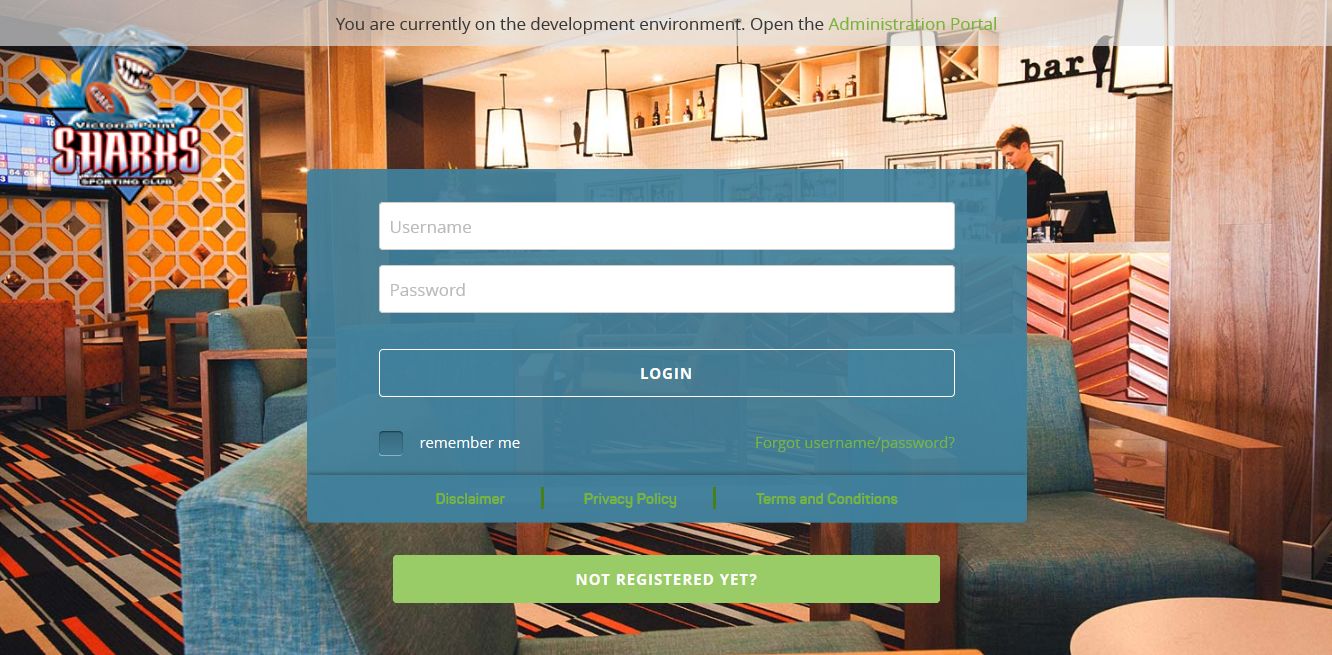 The Club PowerHouse Online Induction Software
The PowerHouse Club Online Induction Program includes the following features:
Online Induction Portal for your staff (courses, compliance tests and certificates)
Online Self-Registration for your contractors (courses, compliance tests and certificates)
Option to create your own induction and training courses
Option to license our Club Course Packages
Ability to create your training groups, publish policies and other documents, broadcast news and key links, promote jobs and generate reports
Club Induction – Contractor and Casual Staff Self-Registration
The Club PowerHouse software features an inbuilt onboarding system for your club to allow staff, contractors and businesses to register automatically on your portal. As part of the self-registration portal you can:
Mandate that all businesses providing staff or services to your club must register on your portal
All businesses receive a management dashboard where they login to check their progress of their staff
Their staff then visit your portal, search for their business and register
You collect all contact information and contractor / staff details
You can also collect all certificates and licenses from each contractor to ensure you are compliant
Club Induction – Staff and Contractor Training Dashboard
In addition to self-registration, you can import your staff instantly into the platform or we can connect the portal to your payroll or CRM to deliver real time synchronisation of your staff and contractor data. After your staff and contractors have logged into the portal, they will see their own training dashboard. See below: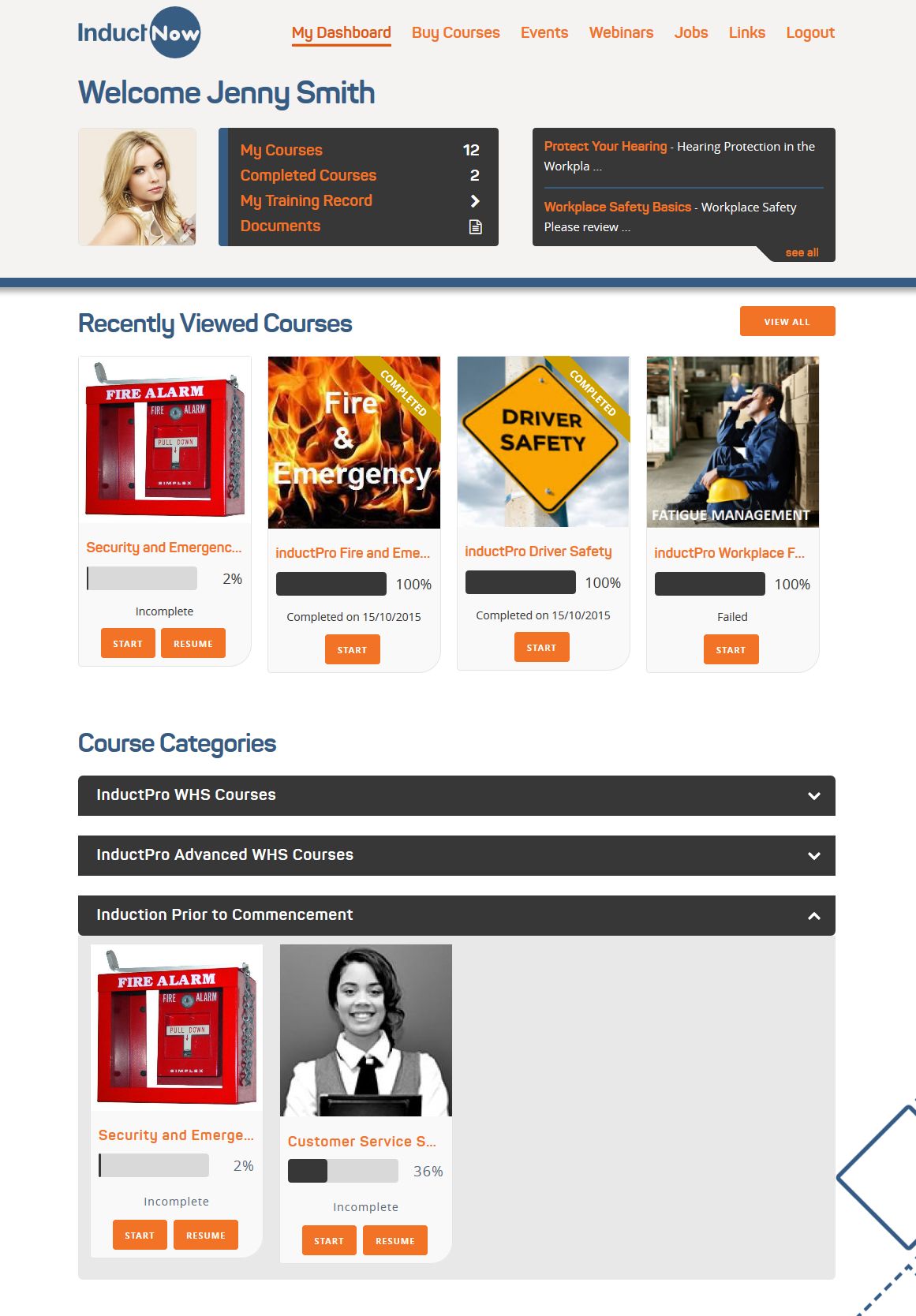 You can create unlimited training groups and staff and contractors to your groups to ensure that they only see the courses, policies and news that is relevant to them and their role in your club.
The Club Training Dashboard delivers a custom set of:
Induction and Staff development courses
Policies and club documents
News, emails and Alerts
Webinars, events and job opportunities
Club Induction – Completed Courses and Certificates
The Learner Training Dashboard delivers completed compliance certificates that you can easily customise for your club's exact needs.
Club Induction – Personal Training Records
The Club Training Dashboard features a personal Training Record. As your staff or contractors complete their courses (webinars and events), the results of each activity are published automatically to their record. There is also the option for you to mandate that your learners add all their extra training activities to their Training Record so that you have a complete set of training data on each learner.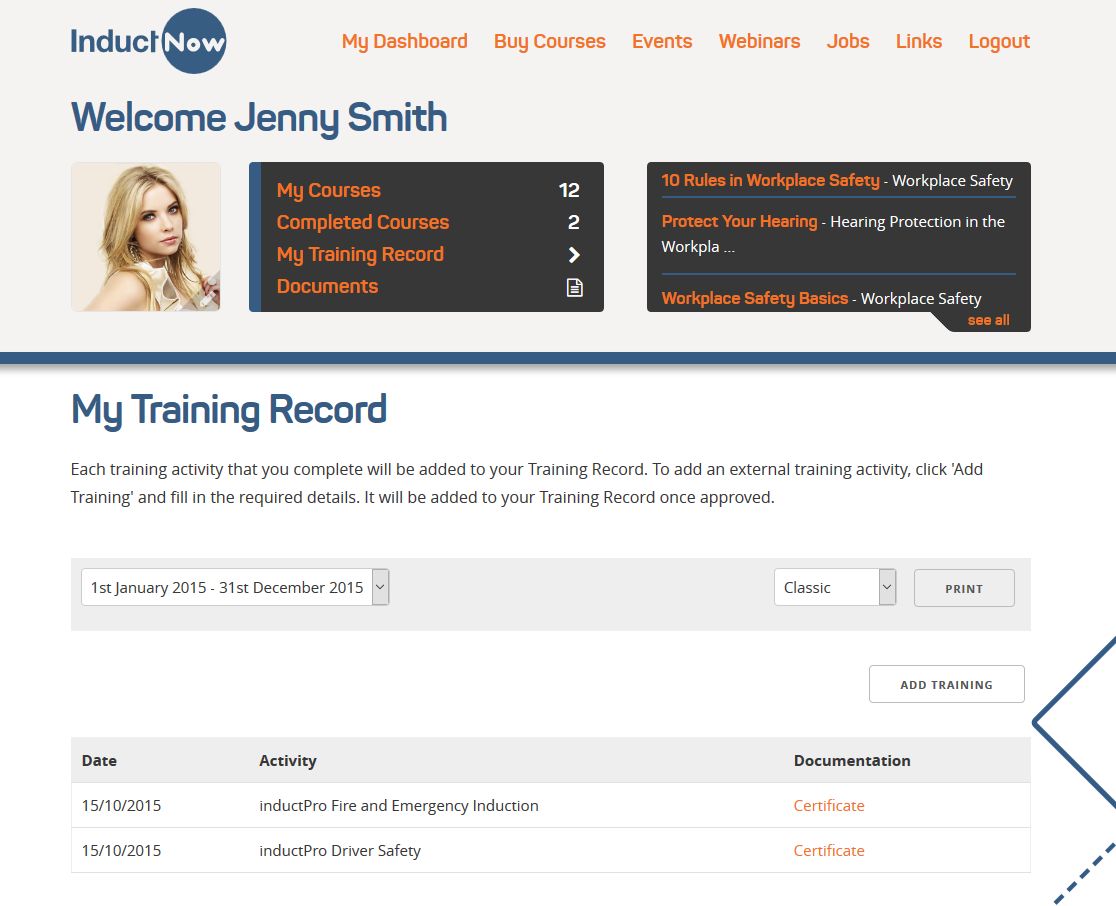 Club Induction – Club News and Policies
Communicating with your casual and full time staff and contractors can sometimes be difficult for our club administrators. The Club Induction software features an news alert, broadcast and email system that allows you to send news items to all your training groups or custom news fields to your specific training groups i.e. a safety alert for your contractors.
The news and alerts are displayed in the top right section of the dashboard and the image below shows how you can set up your policies and documents in your own categories. When a staff or contractor downloads a policy, the download is tracked and can be published in a report.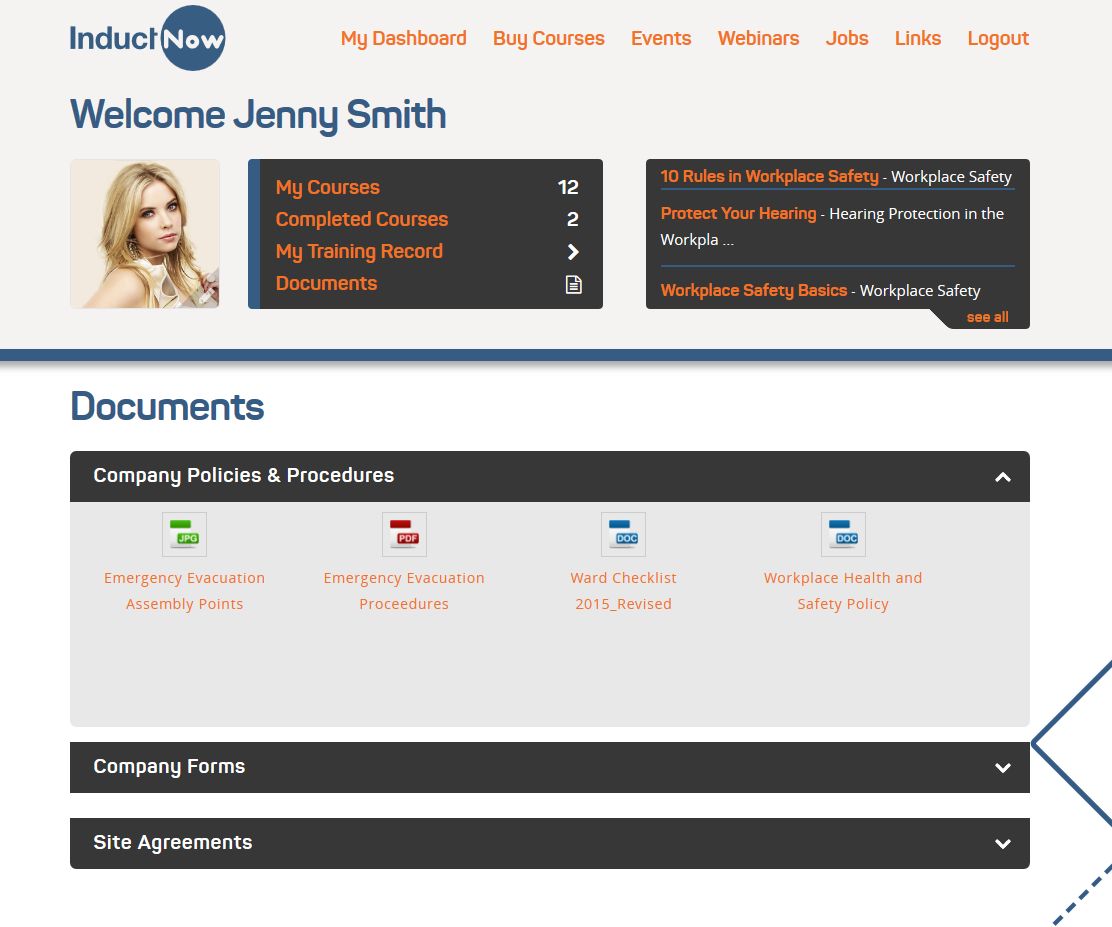 Club Induction – Club Manager Dashboards
To manage your induction and general training, the Club PowerHouse software allows you to add your own managers so that they can track their progress of their team. This means that you can add the Hospitality Manager, Gaming Manager, Bar Manager etc to the specific training groups and they will be able to view all members from their team from their phone, tablet or computer.
The Club Manager will be able to access the Manager Dashboard and complete the following tasks:
View visual progress reports on all staff or contractors
View team based visual reports
Assign specific courses to a team member to help them with their club role
Add and disable team member access
Access all contact details of their team to help manage communication
Reset courses
Generate a wide range of reports
Receive alerts when a team member has a license or certificate expiring
 Your Online Induction and Training Courses
With PowerHouse, your club can convert their existing documents and PowerPoints to online courses that can be assigned to your staff and contractors. When creating your courses, you can add your own tests and pass rates. When the tests are completed, personal reports and certificates are generated. We provide free training to help you build your own courses. Contact us to learn more.
In addition to building your own courses we are pleased to offer you a range of workplace compliance and hospitality courses that you can license and have pre-loaded into your InductNow training portal.
License Our Club Induction and Training Courses
Our Workplace and Safety Courses Include the following Course Titles:
General Staff Induction
InductPro Working in Confined Spaces Induction
InductPro Work Health and Safety Induction
InductPro Working at Heights Induction
InductPro Manual Handling Induction
InductPro Incident Investigation
InductPro Fire and Emergency Induction
InductPro Driver Safety
InductPro Workplace Fatigue – Shift Workers
InductPro Workplace Fatigue
InductPro Working with Hazardous Chemicals Induction
Our Club Industry Course Titles include:
OHS for room attendants
PCI compliance
Prepare and serve espresso coffee
Hospitality Staff Induction
Organise and prepare food videos – Fish and shellfish
Organise and prepare food videos – Fruit and vegetables
Organise and prepare food videos – Meat and Poultry
Key financial principles
Wine essentials
RSA refresher
RSG refresher
Contact Us About our Online Induction and Training Solution for Clubs
Contact us on 1300 362 062 or 0400 735 955 to learn more about our custom offering for Registered Clubs.
Register for a free trial and Product Webinar below today.