Automate Compliance with our Contractor Induction Software
PowerHouse Online Contractor Induction Saves You Time and Money
SmoothIT has partnered with the leader in online induction and training software to bring you – PowerHouse Hub.
We understand the complexities involved in introducing an online induction program for your contractors. The record keeping is onerous and complicated. PowerHouse software delivers the required customised induction courses for your contractors and solves the time consuming tasks associated with the management of an online induction program.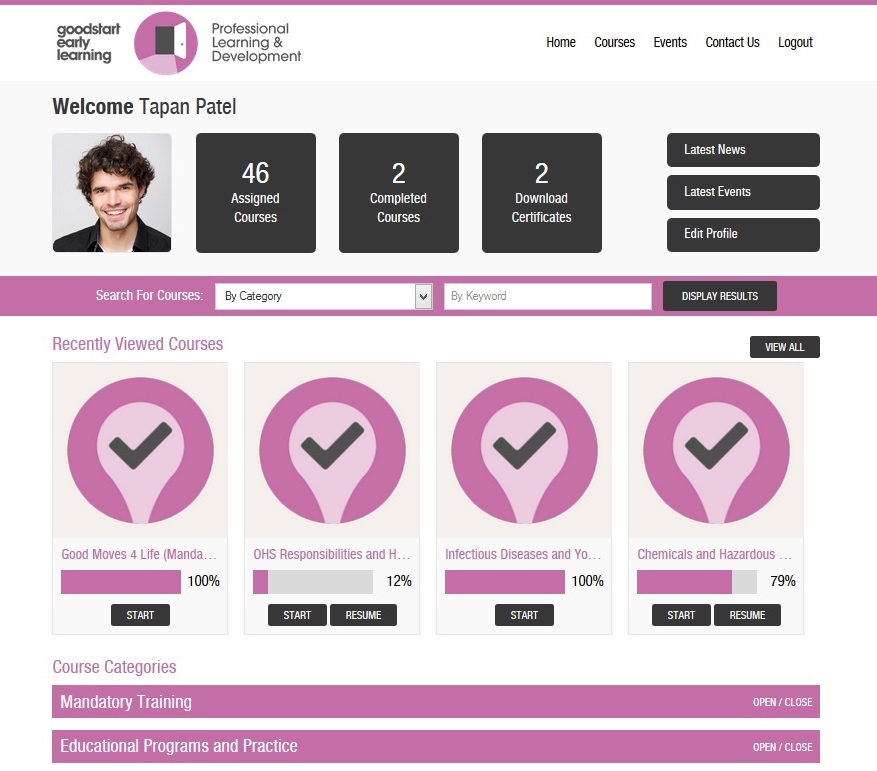 PowerHouse – The Leading Online Contractor Induction Platform
PowerHouse manages your complete online contractor program. With InductNow you can:
License our courses or build your own contractor induction courses
Integrate with your contractor database or activate the self-registration portal
Require your contractors to upload the licenses and certificates as part of their on-boarding process
Publish compliance certificates
The PowerHouse Contractor Induction 12-Point Plan
PowerHouse delivers the following unique 12-Point Plan to manage your online Induction program. The features and tools include:
1.    Automated Contractor Business Registration
PowerHouse allows you to offer a custom self-registration portal for your suppliers. The self-registration process collects and records this data to generate and export certificates of compliance and reports. The digital signatures and automated annual re-certification tools provide automated workflows to manage your businesses.
2.    Automated Contractor Self-Registration
PowerHouse offers custom self-registration for your contractors. As part of the registration, the contractors select their business and add the data to your custom fields to ensure that you have all of the data you require. The system allows you to automatically re-induct your contractors annually or quarterly with custom email reminders.
3.    Automated Upload of Contractor Documents and Licenses
The process also allows you to require your contractors to designate or upload their documentation. This documentation can be easily customised to collect insurances, certificates and licenses. The addition of the expiry dates tool generates instant license expiry reports alongside your suite of status reports on your contractors.
4.    Automated Contractor Certification
PowerHouse allows you to set up one induction course or add multiple courses to cover  all aspects of your contractor induction. The system allows you to deliver an induction certificate per course or to group your courses into one training program and deliver a single certificate for the entire program.
5.    Real-time Visual OHS and Compliance Reports for Managers
PowerHouse offers you the ability to group your contractors in specific training groups and assign one or managers to each group. The Manager Portal provides real-time visual reports on their team of contractors. The Manager can also register their team to attend training events and safety webinars.
6.    Integration with Access Cards and Compliance Scanning
PowerHouse provides you with the option to upgrade the certificates to integrate with your security or proximity card solution. This solution also includes the option to add a QR code to the certificate or card to allow your security to scan their level of compliance.
7.    Integrates Compliance Data with Your CRM
PowerHouse features an API to allow you to integrate specific datasets back to your CRM, Payroll or HRIS system. Our programming team use webservices and/or stored procedures to write compliant data to your central database. You also have the option to import and export your contractors directly into the training platform.
8.    License Our Workplace Compliant Induction Courses
PowerHouse partners with industry leaders to provide you with the option to license our library of workplace induction courses. The courses cover all harmonisation and safety courses and these can be customised for your industry.
9.    Create Your Own Induction and Safety Courses
PowerHouse features the inbuilt, user friendly Course Editor for you to build your own courses quickly and easily. The Course Editor allows you to add all text, multimedia, pre-test and workplace compliance tests to your supplier portal.
10.     Unlimited Contractor Training Groups
PowerHouse allows you to build unlimited Training Groups to reflect the wide range of contractors that you engage. Your groups could be based on location or industry and managers can be assigned easily to all groups.
11.    Publish Document Libraries and Induction News Alerts
PowerHouse allows you to upload key documents and policies and publish these to a group or a selection of groups. These appear on the contractor's dashboard alongside a streaming news feed that provides the latest training and safety information.
12.    Delivers Your Custom Design to all Mobile Devices
PowerHouse features the inbuilt ability to deliver your customised Training Portal to your contractors on PC, Mac, iPad, iPhones, smartphones and tablets. We can also provide an offline version on USB to clients with Internet access issues.
The Online Contractor Induction Workflow
The PowerHouse Online Induction software features an inbuilt workflow to guide all steps of your training program. You have the flexibility to customise the workflow to suit your exact business requirements. The standard workflow is presented below: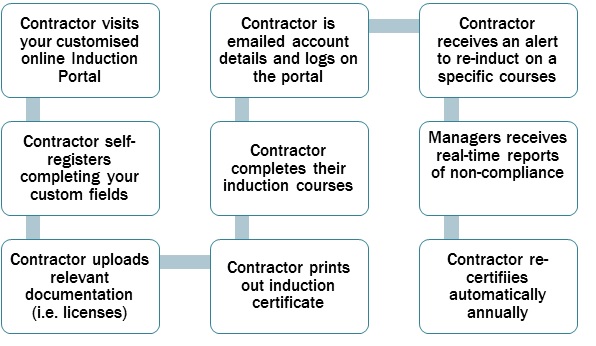 Next Steps
Contact SmoothIT to learn more about our software. Register for a free trial and Product Webinar.